Product design and management
User interface design
Animation
User research (Usability testing)
As a Product Design Lead at Ascend Corp, TrueMoney Wallet, I have several responsibilities including mentoring a small team of product designers and product areas like Customer Authentication and KYC, Fund in and billing, and Partner tools.
Overview
KYC (Know Your Customer) is a process used by businesses to verify the identity of their customers. This process involves collecting personal information from the customer, such as name, address, date of birth, and government-issued ID. We can authenticate the customer's identity, ensuring they are who they claim to be. Customer authentication is a critical aspect of KYC, as it helps businesses to prevent fraud, money laundering, and other illegal activities.
Registration is the first opportunity for users to become customers, introduce them to our e-wallet experience, and reach our 2022 growth targets. We were experiencing a drop in the registration completion rate. Upon reviewing analytics, it indicated users were leaving the flow at ID scanning at a higher rate than the previous version and an increased volume of complaints to the Customer Care team about frustrations with ID scanning.
Problem
To comply with new government requirements, we integrated scanning software (OCR technology) into the registration process to capture high-resolution images of ID cards to ensure IDs are real. After integration, the results were an 11% abandonment rate and lower than our standard completion rates.
We needed to dig deeper to understand what happened at these friction points during registration. How do we recruit the right participants for a study and perform the testing safely during a pandemic?
Solution
Deliver stronger, customer-oriented KYC and a universal, unified approach to customer authentication in keeping with banking best practices.
Foundational Research
I gathered usage and engagement data for the current experience with an assist from the product team. The working team collected several registration process examples from other financial apps to perform a competitive analysis. I created user flows, converted UI from Sketch to Figma, and created additional mock-ups.
Usability Testing
We conducted a usability test on the live registration flow in order to see what points of friction new users encounter. We would use the results of our qualitative study and our quantitative data to inform the improvements to the registration process.
The test was an opportunity for the team to learn how to conduct a usability test. I would provide guidance and support at every step of the way—planning, recruiting, fieldwork, analysis and reporting.
Planning was key to maximizing resources for our usability test. Instead of a prototype, we were able to do the usability test with the live registration flow with 17 participants. We used Lookback to record the entire session, including notes and chat from the team, and we were able to provide stakeholders with access to users experiencing our product in the real world.
The registration research team used a one-page dashboard to communicate externally with all stakeholders. The data were analyzed during a series of remote workshops using Mural. We created a long-form report to document a more detailed view of the test and a short-form document with all of our gorgeous findings and suggestions.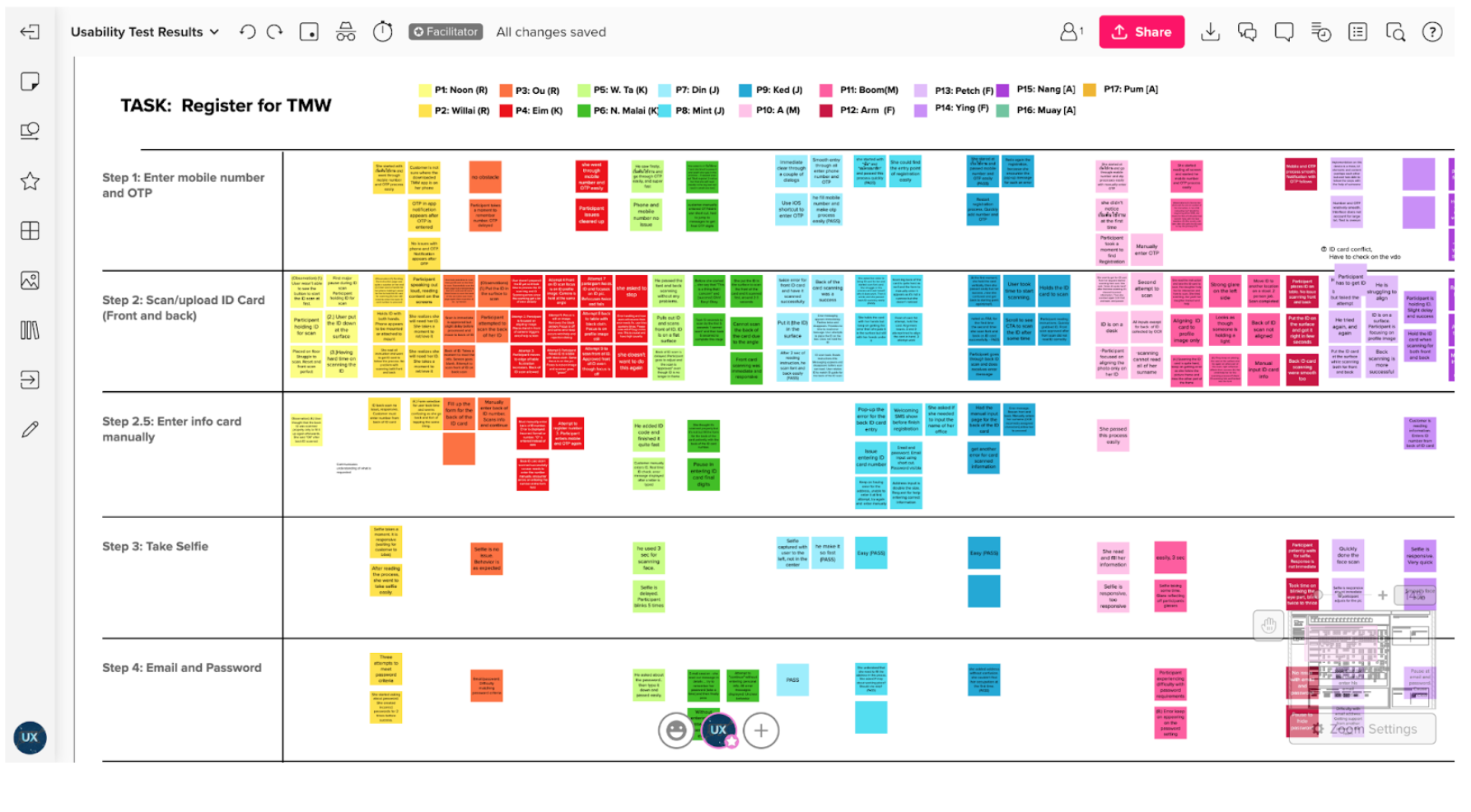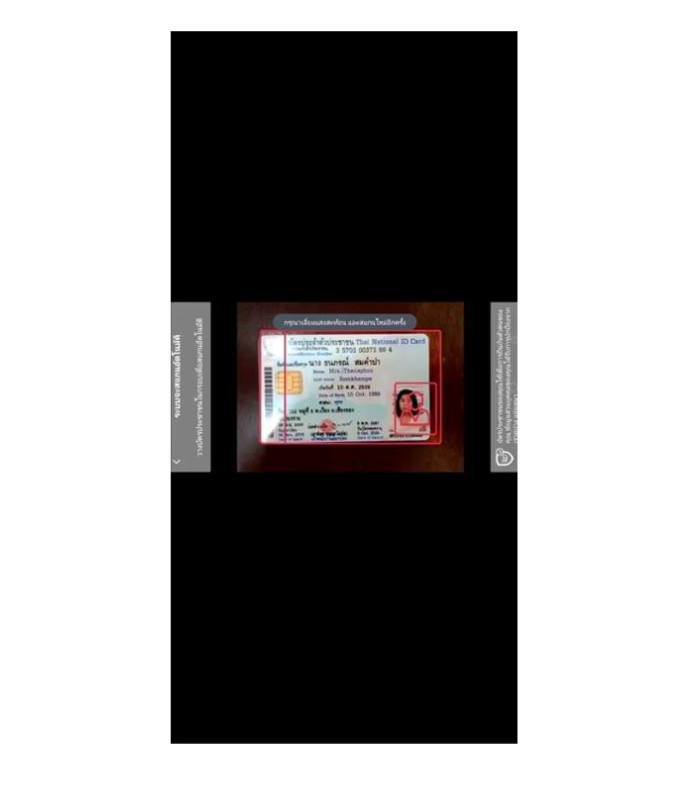 Twelve of the 17 participants had to enter additional information after the back of the ID card scan. Initially I recommended adjusting the threshold for scanning the back of the ID to account for low contrast cards and ensure more successful scans. Based on the experience and OCR technology limitations, I later suggested removing the second scanning step for the back of the ID card since users had to manually enter the number on the back of the ID.
Users were rarely able to provide a password "on-demand" and failed to meet the password criteria on their first try. The recommendation here was to provide users with the password criteria which would changes in real-time to indicate that the password has met requirements.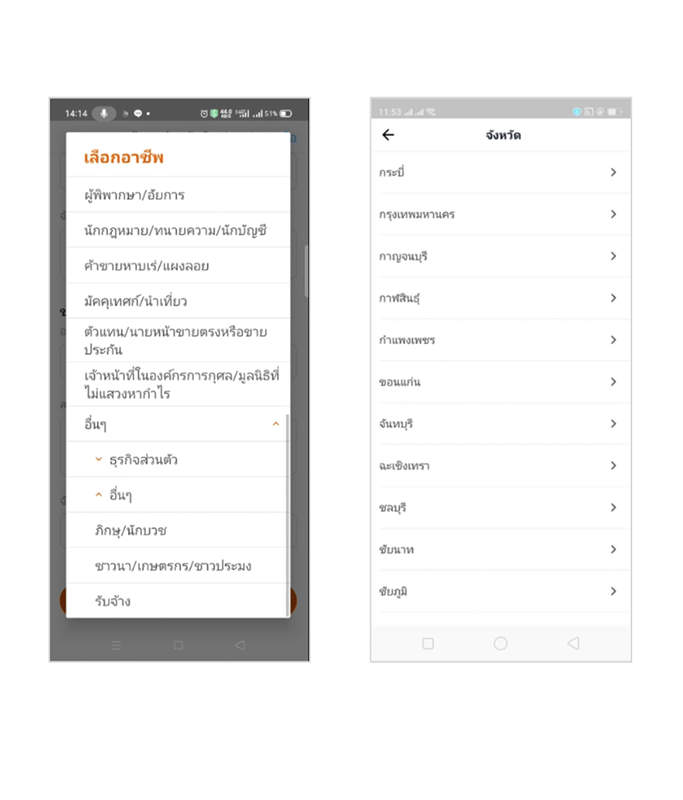 Users struggled with two different types of inputs: the select employment dialog and the multi-level, full-screen address selection dialog. Remove dialog and only use one, full-screen option to select job and address selection. Use one consistent approach to select one option from a long list of options. For address selection, instead of using a complex, multi-level selection, we simplify address selection by using one input for each part of the location (district, subdistrict, province, etc.).
Design
Do to the nature of this project, the design phase consists of incremental changes to the UI with updates to align with the most recent version of our design system.
Outcomes
We discovered usability issues like the high error rate at the scan ID card step and a 9.27 minutes average to register. Using the data and insights we gathered during the usability test, we shared targeted, data-informed design decisions, which directly led to an increase in the registration success rate with less friction than the previous version.
Outsourcing our study recruitment and logistics was a valuable, timesaving approach to finding the right participants safely during another lockdown and restrictions due to COVID-19. Using Lookback as our user testing tool provided additional efficiencies and safety. We have since incorporated a recruitment company and Lookback into our testing playbook.
The registration improvement project is in progress. We continue to look for ways to improve our processes as we move forward with additional KYC initiatives to contribute to the success of this project and achieve our key results in 2022.